Sign Up To Receive
FREE PICKS Daily.
E-Mail Address:
Password: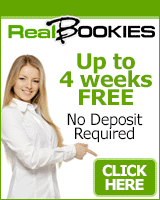 Per Head Bookie Site






BEST WINNING STREAKS:
Mike Anthony - EARLY BIRD Baseball thru the World Series
** MONEY MAKING ALERT *** NO ONE BETTER THE PAST 5 YEARS! Full Season of Baseball PLUS the remainder of the NBA and NHL for FREE. Magic Mike has hit 60% OR BETTER each of the past 5 Baseball Seasons. Mike finished last season 63% showing his Dime Players a Profit of over $60,000 and was #1 in the Nation. This package includes everything from opening day thru the World Series at this incredible price. Get this subscription now and sit back and just let the profits build over the course of the year as their are no pointspread to beat in baseball.
(TonyK) 3G-Sports - TonyK's 2017 NBA PLAYOFF ALL ACCESS PASS
All Post Season NBA Playoff Action through late June when they crown a NBA Champ in 2017. TonyK is veteran expert who does extremely well in the NBA Post-Season. Experienced Handicappers know how to take advantage in the NBA Playoffs and Tony has 22 years of NBA Playoff experience ready to turn a HUGE PROFIT! Invest a little and make a hell of a lot in the NBA PLAYOFFS for just $249 and get 2 months of NBA Playoff action!
Matt Fargo
San Diego Padres vs. Arizona Diamondbacks (MLB) - Apr 27, 2017 9:40 PM EDT
Play: Money Line: 157 San Diego Padres Play Title:
The Padres took Game Three of this series last night and will be out to make it a split tonight. The road has not been kind to San Diego for the most part as it snapped a six-game road losing streak with the Wednesday victory thanks to the offense that put up its most runs in a road game this season. The Diamondbacks have been a pleasant surprise as they are 14-9 and trail the Rockies by just a half-game in the National League West. Their offense has been very solid but they have not faced much and while the opposing starter tonight is not going to scare anyone, he has held his own. Jered Weaver has been very efficient as he has posted three straight quality starts and overall has a 3.91 ERA and 1.00 WHIP in four starts. He does not have a win to show for it however and the Padres are 0-4 in those starts which is due to poor run support. Taijuan Walker counters for Arizona and nearly the exact opposite has taken place for him. He has a 4.57 ERA and 1.38 WHIP in four starts, none of which have been quality performances but the Diamondbacks have gone 3-1 in those games as he has received 6.3 rpg. He has gotten more run support at home which has helped since he has a 6.17 ERA in two starts. Basically all of this says the Diamondbacks should be the play but not at this price as we are getting the better pitcher at this point into the season. Play (959) San Diego Padres

Fargo is coming off a pair of losses on the bases (1 in extras) but he is back with more WINNING on Wednesday night! He is heating up on the diamond with a +$6,500 MLB Underdog Run and he adds to it again tonight with his Dog of the Night! The Thursday slate has one winner for you to CASH BIG so do not think about missing this! All of the info is just a click away!

Click here to view all of Matt Fargo's premium picks.
Mike Anthony

Tampa Bay Rays vs. Toronto Blue Jays (MLB) - Apr 28, 2017 7:07 PM EDT
Play: Money Line: 135 Tampa Bay Rays Play Title: Friday Freebie
Blake Snell is an extremely talented hurler and that results in fewer homers and a terrible opponent batting avg. And his WHIP has been very good so far. The Rays offense has been a very strong factor, with being ranked 1st in the American League as of the 4.25.2017 period. And here it will be, yet again. It looks like Kendrys Morales is set to deliver a slow campaign for the Jays - off the mold of last years decent .263 hitting -- middling batting average with minimal power. Toronto can't give up too many errors, of course Darwin Barney and his slipping fielding skills will be nervous playing a quick hitting Tampa Bay - matched up vs the Rays is never an easy game for anyone in the field. Tampa Bay has a quick outfield with a good pitcher in the dome and as a nice underdog here on Friday night.
Click here to view all of Mike Anthony's premium picks.
(TonyK) 3G-Sports

New York Yankees vs. Boston Red Sox (MLB) - Apr 27, 2017 7:10 PM EDT
Play: Total: 7.0/100 Under Play Title: Free Play
This is one of the lowest totals I've seen in a Yankees/RedSox game since the days of Pedro and Clemens pitching. The surging Yankees are 10-4 in starts by Masahiro Tanaka against winning opponents. Red Sox starter Chris Sale has allowed just three earned runs all season, and I expect a pitchers duel here tonight. Take the UNDER!
Click here to view all of (TonyK) 3G-Sports's premium picks.
Rocketman Sports

San Diego Padres vs. Arizona Diamondbacks (MLB) - Apr 27, 2017 9:40 PM EDT
Play: Money Line: -162 Arizona Diamondbacks Play Title: Rocketman Sports FREE MLB play Thursday
Rocketman Sports FREE MLB play Thursday 4-27-17 San Diego @ Arizona 9:40 PM EST Play On: Arizona -161 (Weaver/Walker) Listed The San Diego Padres travel to Arizona to take on the Diamondbacks on Thursday night. San Diego is 8-14 SU overall this year while Arizona comes in with a 14-8 SU overall record on the season. Jered Weaver is 0-1 with a 4.24 ERA on the road this season. Taijuan Walker is 1-1 with a 1.50 ERA in his 2 career starts vs San Diego. San Diego is scoring only 3.3 runs per game overall this year, 3.2 runs per game on the road this season, 3.1 runs per game against right handed starters and 3.1 runs per game at night this year. Arizona is scoring 5.5 runs per game overall this year, 7.5 runs per game at home this season, 5.6 runs per game against right handed starters, 6.1 runs per game their past 7 games overall, 5.5 runs per game on grass and 6.2 runs per game at night this season. Arizona is batting .325 as a team at home this year. Arizona is 10-2 SU at home this year. Arizona is 10-2 SU at home when the total is 10 to 10 1/2 the past 3 seasons. We'll recommend a small play on Arizona tonight! Thanks and good luck, Rocky Rocky Atkinson has a TOP 8* MLB BEST BET winner for you on Thursday. One of the BEST HANDICAPPERS in the world is on an impressive 69-49 58% MLB run over his last 124 picks! Join the same handicapper that has made $1,000/game bettors $13,990 since May 05, 2016 with his money line on A's v. Angels! Rocketman is 5-1 83% past 2 days in MLB and 6-1 86% overall past 2 days! Get on board now and WIN BIG again! Only loss past 2 days was Arizona allowing 5 runs last night in 9th inning blowing the win!
Click here to view all of Rocketman Sports's premium picks.

Winning Streaks




©Copyright 2017 Vegas Top Dogs. All rights reserved. No portion of Vegas Top Dogs may be duplicated, redistributed, or manipulated in any form.