Sign Up To Receive
FREE PICKS Daily.
E-Mail Address:
Password: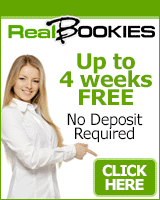 Per Head Bookie Site






BEST WINNING STREAKS:
Mike Anthony - EARLY BIRD Baseball thru the World Series
** MONEY MAKING ALERT *** NO ONE BETTER THE PAST 5 YEARS! Full Season of Baseball PLUS the remainder of the NBA and NHL for FREE. Magic Mike has hit 60% OR BETTER each of the past 5 Baseball Seasons. Mike finished last season 63% showing his Dime Players a Profit of over $60,000 and was #1 in the Nation. This package includes everything from opening day thru the World Series at this incredible price. Get this subscription now and sit back and just let the profits build over the course of the year as their are no pointspread to beat in baseball.
Tony Stoffo - Stoffo's Weekly All Sports Pass
Every selection that Tony releases for 7 days will be included. Tony Stoffo is the former Manager of the Race and Sports Book at the old Desert Inn Casino in Las Vegas. Get 7 Days for just $149.00. These Plays are 100% GUARANTEED to bring home the CA$H.
Mike Anthony
St Louis Cardinals vs. Colorado Rockies (MLB) - May 26, 2017 8:40 PM EDT
Play: Money Line: 117 Colorado Rockies Play Title: Free Play
Charlie Blackmon swing has been ridiculously good, with a .323. avg and 61 hits, tops on the team. The big Colorado CF has certainly not had any problems making contact. And Colorado has some good overall tools on the team, warrant immediate concern for any pitcher. Colorado at home have been nearly impossible to play well against. 34 yr old Yadier Molina, is not really a very fast player so his infield dinkers are not going to get him too far. Carlos Gonzalez can cover a lot of space in the outfield for Colorado - as he is very quick when getting a bead on a fly ball. Getting base to base for St. Louis has been a struggle as they have been playing 50/50 through the 5.23.17 period. Carlos Martinez has been having a tendency to give up a load of hits - over 9 games - this leaves a great chance for a shelling from a big batting team. Colorado wins here at home as an underdog.
Click here to view all of Mike Anthony's premium picks.
Rob Vinciletti

Atlanta Braves vs. San Francisco Giants (MLB) - May 26, 2017 10:15 PM EDT
Play: Money Line: -106 San Francisco Giants Play Title: Rob V: Friday MLB Comp play
Friday card has the 17-1 MLB dog of the Month and a 5* 15-0 Blowout system both backed with perfect angles and a big stat pack. MLB Tops multiple leader boards this year. MLB Comp play below. The MLB comp play is on the SF. Giants at 10:15 eastern. SF is 3-0 at home off a road loss. The Braves are 0-10 on the road off a home loss. Even better. Road dogs league wide that are off a 5+ run home loss like Atlanta are 1-14 if they scored 4 or less runs on 10+ hits and are playing a team off a loss. SF has won 5 of the last 6 at home and they have Cain and his 1.19 home Era on the mound. Garcia counters for Atlanta and his Road Era is right around 5. Look for the Giants to take the opener. On Friday we start off Memorial Day weekend with the 17-1 MLB Dog of the month and a Massive 15-0 Blowout system. MLB Continues on top at multiple leader boards. Play on the SF. Giants. RV
Click here to view all of Rob Vinciletti's premium picks.
Winning Streaks

©Copyright 2017 Vegas Top Dogs. All rights reserved. No portion of Vegas Top Dogs may be duplicated, redistributed, or manipulated in any form.