Sign Up To Receive
FREE PICKS Daily.
E-Mail Address:
Password: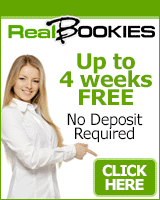 Per Head Bookie Site









?




BEST WINNING STREAKS:
(TonyK) 3G-Sports - TonyK's 7-Day ALL SPORTS Pass
TonyK is the most recognized handicapper in the country, currently #1 in 2018, and one of the top finishers of the NFL Las Vegas Westgate Contest. TonyK & 3G-SPORTS is a veteran and experienced expert sports handicapper. Get his weekly package now for 7 consecutive days of ALL SPORTS for just a low discounted rate of $149. Start collecting that extra paycheck each week!
Doc's Sports - Doc's Seven Day All-Access Pass
Get all the Doc's orders in every sport for 7 days at this ridiculously low price right here on this website! Comes complete with 24/7 online access and support! Everything you need to WIN BIG with this 7 day ALL SPORTS PASS!
Mike Anthony
Toronto Blue Jays vs. New York Yankees (MLB) - Aug 18, 2018 1:05 PM EDT
Play: Point Spread: -1.5/-130 New York Yankees Rating: 3* Saturday Free Pick
It will be bad for the Jays, to pitch the Yankees with the youngster, Reid-Foley - they will light up runs very quickly. The ball will already be on it's way, by the time Toronto gets to notice what is going down - and the Yankees will be lapping the bases. Outside of NY's 11th ranked fielding, there's really no bad areas on this team. A game full of sloppy throws and long innings means a burned out defense. Which will make it that much more difficult to stop the attacking offense of NY. Toronto has not changed their shifts or placement, even though their defense has struggled. As their infield is then forced to try and accommodate. Blue Jays are 2-5 in their last 7 vs. a team with a winning record Yankees win
Click here to view all of Mike Anthony's premium picks.
Doc's Sports

Baltimore Ravens vs. Indianapolis Colts (NFL) - Aug 20, 2018 8:00 PM EDT
Play: Point Spread: 1.5/-107 Baltimore Ravens Rating: 1*
Free Play from Doc's Sports. Take #431 Baltimore Ravens over Indianapolis Colts (8p.m., Monday, August 20 ESPN) It is just in John Harbaugh's blood to win exhibition games. Baltimore is 2-0 this season straight-up and they are 27-14 lifetime during the Harbaugh tenure. Indianapolis only has one goal this preseason and that is to get QB Andrew Luck back on the field at some point before the regular season. Wins and losses do not mean anything to Coach Frank Reich and they had a field goal fest in their first game against Seattle. Expect Baltimore to win this game by double digits. Do not miss Doc's Sports NFLX Week 2 card featuring plays throughout the weekend. Doc produced a profit in Week 1 and more of the same coming in Week 2 from this 2017 Nationally Ranked NFLX Handicapper.
Click here to view all of Doc's Sports's premium picks.
Jesse Schule

BC Lions vs. TOR Argonauts (CFL) - Aug 18, 2018 4:00 PM EDT
Play: Money Line: -135 BC Lions Rating: 1* The Iceman's Free Pick
This is a Free #CFL play on the BC Lions. The Toronto Argos are coming off a bye week, and their last game was a thrilling 42-41 comeback win over Ottawa. They were trailing by 24 points in the third quarter of that game, and were quite fortunate to have rallied for just their second win. Toronto has allowed opponents to average over 31 points per game this season, only the lowly Montreal Alouettes have allowed more. The Lions come in with just a 3-4 record, but they look a lot more dangerous since veteran Travis Lulay took over at quarterback. In four games as a starter, Lulay has thrown for 1,171 yards and five TDs. Three of those games came against the top three teams in the league (Calgary, Winnipeg and Edmonton). The Lions have won four straight at Toronto dating back to 2013, and I expect history to repeat itself here this week. Take BC. GL, Jesse Schule
Click here to view all of Jesse Schule's premium picks.
Doug Upstone

Seattle Seahawks vs. Los Angeles Chargers (NFL) - Aug 18, 2018 10:00 PM EDT
Play: Point Spread: 3.0/100 Seattle Seahawks Rating: 2* Doug Upstone's NFLX Freebie
On Saturday night, Play On underdogs like SEATTLE off an upset loss as a home favorite, against opponent off a road loss. In the last nine years, teams like the Seahawks are 23-5 ATS, 82.1 percent. $$ Doug Upstone's NFLX Underdog Best Bet! (77.5% Spot) (11-3 ATS run)
Click here to view all of Doug Upstone's premium picks.

Winning Streaks




©Copyright 2018 Vegas Top Dogs. All rights reserved. No portion of Vegas Top Dogs may be duplicated, redistributed, or manipulated in any form.