Sign Up To Receive
FREE PICKS Daily.
E-Mail Address:
Password: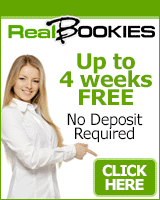 Per Head Bookie Site









?




BEST WINNING STREAKS:
Mike Anthony - Monthly Winning Package (30 Days) ALL SPORTS
MONEY MAKING ALERT: ***ON ABSOLUTE FIRE HITTING 68% COllege Football *** Currently on top for 2017 and Leader in Net Profit the last 3 years. In 2007 Mike went 70% ATS in Baseball and 63% in foots, and the previous 3 years Mike Anthony went 60% ATS OR better. Mike so far in 2017 is on a current tear. MAKE MONEY WITH A 27 YEAR VETERAN RIGHT HERE for the next 30 days! Order now and get his daily winners in ALL SPORTS with full analysis!
Doug Upstone - Doug Upstone's Winning 7 Days Sports Subscription
This subscription includes EVERY PREMIUM PICK I release in any sport for the next 7 days! Join now for only $24.99/day and Start Your Personal Winning Streak! #1 2016 NFL at The Sports Eye #1 2015 NFL at Cappers Monitor #1 2014-15 NHL at Cappers Monitor, Cappers Watchdog & The Sports Eye #1 2013-14 NHL at Cappers Monitor & The Sports Eye #1 2014 NFL Playoffs at The Sports Eye Monitor #1 2013 NFL at Cappers Monitor #1 2013 NHL at Cappers Monitor, Capper Watchdog & Sports Eye #1 2009-10 CBB at Cappers Monitor
Dave Cokin
Illinois State vs. Bradley (NCAAB) - Jan 23, 2019 7:00 PM EST
Play: Point Spread: 0/-110 Illinois State Rating: 1* Free Action
Bradley finally got into the MVC win column last time out. But as usual, the poor shooting Braves had trouble putting thr ball tn the basket. It really looks as though this team will only be able to get to the winner's circle when the other team misfires even more. Illinois State is no great shakes to be sure, but the Redbirds appear to be the superor entry here and I don't see the home court advantage being a major factor. I'll back Illinois State to earn the win and cover tonight.
Click here to view all of Dave Cokin's premium picks.
Stephen Nover

Atlanta Hawks vs. Chicago Bulls (NBA) - Jan 23, 2019 8:05 PM EST
Play: Point Spread: 2/-110 Atlanta Hawks Rating: 2* free play
We have a first today in the NBA. The Bulls are chalk for a second straight game. That hasn't happened all season. Chicago ended a 10-game losing streak by defeating the Cavaliers, 104-88, on the road this past Monday. Now the Bulls come home to face the Hawks. Chicago has won consecutive games only once all season. Atlanta is the better team with the superior record. The Hawks are a respectable 8-9 in their last 17 games. They have revenge for an early-season loss to the Bulls. The Hawks have a winning road point spread mark. The Bulls have a losing home point spread record. Atlanta's next five games are on the West Coast. The Hawks don't play again until Saturday so a maximum effort should be forthcoming especially following a dismal 122-103 blowout home loss to the Magic two days ago. Atlanta is 6-2 ATS after a defeat. Sparked by second-year breakout star John Collins, the Haws lead the NBA in offensive rebounding while ranking No. 2 in rebounds per game. Collins can really hurt the Bulls, who are missing their toughest inside presence with center Wendell Carter Jr. out with a thumb injury. Collins, Trae Young and Kevin Huerter, a playmaking wing with an excellent 3-point shooting touch, give the Hawks an excellent and underrated young core. Huerter is expected to play after missing the Magic game due to a sore neck. The Hawks also have Taurean Prince back from injury. He's Atlanta's fourth-leading scorer. (Editor's note: Long-time NBA sharp Stephen Nover is having another strong NBA season going 62-46 for 57 percent, including 24-14 on his last 38 premium/free NBA plays.)
Click here to view all of Stephen Nover's premium picks.
Rob Vinciletti

Oklahoma vs. Oklahoma State (NCAAB) - Jan 23, 2019 9:00 PM EST
Play: Point Spread: -3/-110 Oklahoma Rating: 1* Rob V: Hump day comp play
Hump day card has the NCAAB Total of the month backed with 12 angles and a powerful side play. In the NBA we are on a 10-1 run and tonight we have a live dog that wins outright and a top east conference play. BIG 12 Comp play below The NCAAB comp play is on Oklahoma at 9:00 eastern. The Sooners are ranked 6 in the RPI Scale and have played the 2nd toughest schedule in the country. They are 5-0 vs team like Ok. St that are ranked between 50 and 100. The Cowboys ranked 79th are 2-6 vs top 50 teams and have failed to cover 5 of 7 vs BIG 12 teams, 8 of 10 vs winning teams, 6 of 7 off a loss and 7 of the last 8 at home. The Sooners have covered 6 of 7 on the road, the last 4 vs losing teams, 10 of 14 off a spread win. In the series they have covered 12 of the last 16. Look for Oklahoma to get the cover. On Wednesday the lead plays are the NCAAB Total of the month and the Eastern Conference Game of the month in the NBA. For the NCAAB Free play. Go with Oklahoma. RV- GC Sports
Click here to view all of Rob Vinciletti's premium picks.
(TonyK) 3G-Sports

Denver Nuggets vs. Utah Jazz (NBA) - Jan 23, 2019 10:35 PM EST
Play: Point Spread: -3.5/-110 Utah Jazz Rating: 1* FREE BURIAL
Big National TV tonight in the NBA and we have a comp selection on it. The Nuggets come into this game have won three of their last four and at 31-14 on the season will be one of the top teams in the West this season. The Utah Jazz have won six of their last seven overall and at 26-22 have dug themselves out of an early season hole. Donovan Mitchell has been finding his scoring groove as of late and while the Jazz lost to the Blazers he did have 36 points. Utah has been playing better defense lately and that has been a big part of why the they have found more success. Take the Jazz at home in this one as they are the better team when playing at home and Denver struggles quite a bit when playing on the road.
Click here to view all of (TonyK) 3G-Sports's premium picks.

Winning Streaks




©Copyright 2019 Vegas Top Dogs. All rights reserved. No portion of Vegas Top Dogs may be duplicated, redistributed, or manipulated in any form.