Sign Up To Receive
FREE PICKS Daily.
E-Mail Address:
Password:




sign in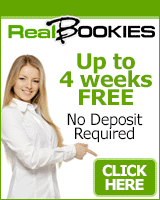 Per Head Bookie Site





BEST WINNING STREAKS:
(TonyK) 3G-Sports - 2016 EARLY BIRD FOOTBALL DEAL
Take advantage now of our Early Bird Football Deal. Get 6 Full months of action with ALL SPORTS from today thru the Super Bowl in Feb of 2017. This includes all of the College Bowls and NFL Playoffs. Normally $795 for each, ORDER NOW and get BOTH College and NFL for just $995 with our Early Bird Football Special. The #1 Football Handicapper in the Nation so grab this SPECIAL DEAL NOW! Overall we were was 81 games over .500 the last 3 years and combined College and NFL and he hit over 62%. He has been the #1 Sports Handicapper in Football and last season he hit 67% in College Football and the #1 Capper in the Nation! There will be nothing else to purchase with this deal!
Rob Vinciletti - Rob Vinciletti: ONE FULL MONTH OF ALL SPORTS POWER
# 1 RANKED OVERALL 2014 FOOTBALL FOR THE SEASON! CASHING BIG IN BASES Get all of WORLD CHAMPION Rob Vinciletti's Award-Winning picks for 1 month! Rob is one of the TOP Cappers in the industry and continues to EXPAND THE BRAND Throughout the Globe, with his Cutting edge Material and Data that Simply wont be found elsewhere. Consistency in All Major Sports along with Superior Analysis is what sets Rob Apart from the Rest. ROB was 54 GAMES OVER .500 IN ALL FOOTBALL LAST SEASON
Mike Anthony
Pittsburgh Steelers vs. New Orleans Saints (NFL) - Aug 26, 2016 8:00 PM EDT
Play: Point Spread: -2.0/-110 New Orleans Saints Play Title: FREEE
Sean Payton blitzes at odd times, and when he does, it confuses opponents. Pittsburgh has to be aware of the blitz pickup, and I don't trust them to be. With the noise level in New Orleans, it is always a tricky place to play. DeAngelo Williams has to stay focused to help out when Cameron Jordan and James Laurinaitis fire. Ross Cockrell has to turn and run when he gets covering Michael Thomas. He won't, and Thomas will get separation from Cockrell. When he does that, Drew Brees will open it up. Brees is always putting up big numbers in home games, no different here. Thomas has some good looks for the pre-season. Saints are 6-2-1 ATS in their last 9 games on fieldturf New Orleans wins giving the 2 points
Click here to view all of Mike Anthony's premium picks.
Rob Vinciletti

New England Patriots vs. Carolina Panthers (NFL) - Aug 26, 2016 7:30 PM EDT
Play: Point Spread: 3.5/-110 New England Patriots Play Title: Rob V: Friday card has 2 MORE BIG NFLX WEEK 3 SYSTEMS WINNERS + an MLB Blowout system
T.G.I.F and there are 2 More NFLX Week 3 Power system winners up both cashing over 90% long term. In Bases a 15-0 MLB Blowout system headlines. NFLX Comp play below. The NFLX Comp play is on the New England Patriots + the 3-4 points at 7:30 eastern. The Patriots are 7-1 ats off a win vs a team off a win by 10 or more points. Carolina has failed to cover all 6 games in the Preseason series with New England and they are 0-8 to the spread in their first NFLX Home game vs AFC teams. Game 3 teams off back to back wins are 20-8 to the spread vs a team off a spread loss. We will take the 3-4 points with New England tonight. On Friday a powerful card takes center stage ad is led by 2 more Powerful 90+% NFLX Week 3 systems that are long term money makers. In MLB a 15-0 Blowout system is the lead play. Currently we are ranked #1 for 2016 on several top leader boards and #1 in football combined over the last 2 seasons. Jump on now and put this industry leading data on your side. For the Friday free NFLX Play we will take the points with the Patriots. RV
Click here to view all of Rob Vinciletti's premium picks.
(TonyK) 3G-Sports

Buffalo Bills vs. Washington Redskins (NFL) - Aug 26, 2016 7:30 PM EDT
Play: Point Spread: -2.5/-115 Washington Redskins Play Title: FREE
Ronald Darby is a talented DB, but has had some problems jumping routes too early, finding himself playing chase - and DeSean Jackson can obviously make big time plays when given the chance. Darby will fight for the football and has no problem banging to make any QB think twice before throwing the ball. But, DeSean Jackson has more speed and will chew up space, fast. The Skins need some time to get their running game back again. They have struggled to get things moving on the inside with consistency. Washington has put up meager numbers over the last 4 games on the ground, but I trust their offensive line coach Bill Callahan to get the most from his line here. Losing their RB1, Matt Jones, is bad news, but I expect Chris Thompson to pick up the slack. Bills are 0-3-1 ATS in their last 4 road games and I like Washington to take care of business on Friday night at home in Pre-season WEEK 3 action.
Click here to view all of (TonyK) 3G-Sports's premium picks.
Jesse Schule

Hawaii vs. Michigan (NCAAF) - Sep 3, 2016 12:00 PM EDT
Play: Point Spread: 42.0/-110 Hawaii Play Title: The Iceman's Free Pick
This is a Free #NCAAF play on the Hawaii #Warriors. The public loves Michigan this year, and it's easy to see why. The Wolverines completely turned things around winning 10 games last season, after going just 5-7 in 2014. While Jim Harbaugh's first year as Michigan's head coach has come with plenty of fan fair, I believe this team is way overrated. It's important to keep in mind that all 10 of last year's wins came against teams that finished the season unranked. They lost at Utah, at home to Michigan State, and they were blown out at Ohio State. The Wolverines will host the Hawaii Rainbow Warriors in their season opener, and they are asked to cover an enormous number here. Despite the fact that they played their fair share of cupcakes last season, they didn't win any games by as much as 40 points. Hawaii was brutal last year, losing 10 of 13 games. Many of those losses were blowouts, but even against the likes of Ohio State and Wisconsin, the margin of defeat was less than 40 points. They lost 38-0 at Ohio State in Week 2, and it's worth noting that Michigan didn't fair much better losing 42-13 when they traveled to Columbus. Hawaii has plenty of talent returning from last season, and this team might just be more competitive than it was a year ago. The Warriors will get a chance to work out the kinks a week earlier when they play California in Australia. The Wolverines will not have that luxury, with a new quarterback under center in their first game of the season. Even if everything goes smoothly for Michigan, and they somehow manage to build a big early lead, expect Harbaugh to pull the starters which would likely allow Hawaii to get a back door cover. Take HAW. GL, Jesse Schule
Click here to view all of Jesse Schule's premium picks.

Winning Streaks



©Copyright 2016 Vegas Top Dogs. All rights reserved. No portion of Vegas Top Dogs may be duplicated, redistributed, or manipulated in any form.